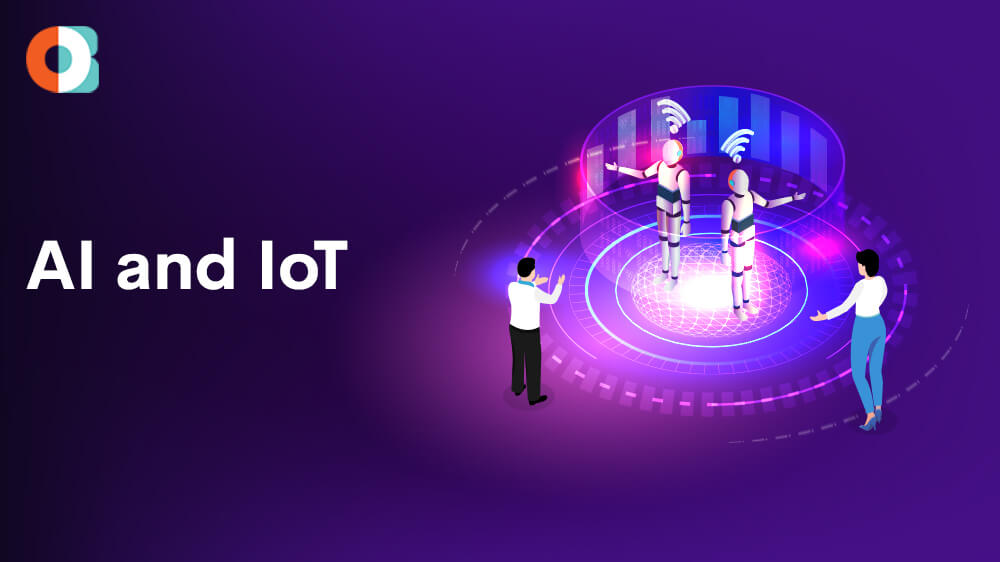 AI and IoT: Two Powerful Entities That Will Revolutionize Business
Artificial Intelligence and IoT facilitate intelligent decision-making and data exchange. Learn how artificial intelligence and IoT are transforming businesses.
Businesses are in constant search of technologies to empower their processes. Artificial intelligence and IoT are worth mentioning if asked for the two most used technologies in the modern world. Many businesses want to adapt these transforming technologies that help them influence the market. Let us go through this powerful combination and its capabilities to revolutionize businesses, starting with a quick overview.
AI and IoT: An Overview
Artificial intelligence machines act like humans, gain knowledge, and collect information using advanced algorithms. It can identify trends, recognize patterns, and predict the future. Thus, AI is a pioneering technology in regards to safety, accuracy, and quick business decision-making.
According to Statista , in 2021, it is estimated that 10.9 billion U.S. dollars will be spent on intelligent process automation (IPA). While in that same year, robotic process automation (RPA) and artificial intelligence (AI) business operations are expected to have less overall spending, with 5.4 and 4 billion U.S. dollars, respectively. However, by 2023, RPA and AI business operations are expected to gain significant traction.
Internet-of-Things or IoT includes different devices and gadgets connected with programming and sensors. It shares information through the remote system or network, resulting in valuable real-time data. This data is in great demand for businesses aiming to improve their products or services.
According to Statista, the total Internet of Things (IoT) market worldwide was worth around 182 billion U.S. dollars in 2020, and is forecast to rise to more than 621 billion U.S. dollars in 2030, tripling its revenue in ten years. Not only this, but the number of IoT connected devices worldwide is forecast to triple during this span of time.
Internet of Things (IoT) total annual revenue worldwide from 2020 to 2030
Why Artificial Intelligence and IoT?
IoT or Internet-of-Things is a family of devices communicating with each other and generating large data amounts. However, this data requires proper collection, analysis, processing, and storage. With the steep increase in IoT devices, data efficiency starts taking a backseat due to transit, safety, and management issues.
Artificial intelligence empowers the IoT to learn from past decisions, predict future trends, and improve decision-making. It eliminates the critical challenges of various businesses, security, and management for IoT.
While the power of AI and Blockchain integration helps make business processes smooth and viable, IoT takes charge of real-time data aggregation. So, it is all about IoT collecting the data from different sources and AI converting the same into meaningful insights for the businesses.
Benefits of AI and IoT
The Artificial Intelligence of Things, or AIoT, is the new phrase for combining artificial intelligence and the Internet-of-Things. Let us quickly look at some of the top advantages of the IoT with AI:
Data Management
AI's first and most obvious benefit in IoT is its data management capabilities. The Internet of Things effectively manages the accumulation of data from different sources. The data from IoT devices like wearables include first-hand details, which are crucial for any business. Artificial Intelligence then takes charge of processing this data and bringing actionable results.
Discovering patterns and predicting future trends is easy based on the data collected. Hence, it is easy to improve customer experience using this technology combination's excellent data management capabilities.
Improved Operational Efficiency
IoT devices collect precise and real-time data for businesses. When combined with artificial intelligence, companies can obtain exact predictions for improving business efficiency. Having a quick list of the top profitable and redundant processes in any business is easy. Further, it is easy to fine-tune the techniques based on these results to improve overall operational efficiency.
Improved Customer Services
All businesses look for effective methods to improve their services. With the IoT and AI, companies can use this combination to enhance their customer services. IoT can bring the much-needed knowledge base for businesses aiming to know customer pain points. Retail, e-commerce, or FMCGs can effectively handle customer issues with chatbots based on artificial intelligence.
Improved Scalability
AI and IoT have allowed businesses to compress vast data into manageable sizes without compromising their analysis abilities. IoT is full of low-cost sensors generating large amounts of data. This data is significantly managed by artificial intelligence technology for improved decision-making. Hence, it is easy for businesses to scale up their operations.
Maintenance and Predictive Evaluation
Due to its predictive maintenance capabilities, the manufacturing industry bows down to artificial intelligence and IoT. Human intervention is unnecessary as IoT devices notify companies about accidents or equipment failures. Artificial Intelligence leads the anticipatory evaluation to predict potential accidents and losses. Hence, no more shutdown time for the manufacturing deploying this powerful technology combination. Improved risk management: Just as predictive maintenance is necessary for manufacturing, risk management is crucial for the technology sector. AI and IoT can effectively handle personnel safety, financial losses, and cyber threats. The analysis of artificial intelligence based on IoT data ensures reduced risks in business operations.
Top Examples of Artificial Intelligence and IoT
AI in IoT is set to become an 89 billion USD market by the end of 2024. Please have a quick look at the top applications of this powerful combination, stressing its future uses.
Smart Cities
It is easy for the public sector to hire an AI development company to unlock the potential of this combination with smart city management. Smart governance, smart policing, smart waste management, smart parking, and smart traffic management are some of the key features of a smart city.
Healthcare
Modern healthcare faces extreme challenges like pandemics, which stresses the optimized need for technology with healthcare experts. Hence, more and more healthcare services are installing IoT applications for early detection, drug administration, and patient care. The IoT investments in healthcare applications, fitness trackers, or medical record systems aim to improve safety issues in patient treatment.
Self-driven Vehicles
Next is a dream come true from science fiction- self-driven cars. With the power of the IoT sensors and artificial intelligence's mechanisms, these vehicles can be a boon for the specially-abled. The future of the automobile sector is in safe hands- thanks to the enormous amount of data collected by the vehicle through consumer behavior, weather conditions, navigation, and many more.
Smart Homes
The modern generation loves smart homes with interconnected lighting, heating, and security systems. This smart home ecosystem is one of the simplest but most effective examples making it easy for people to manage their place while located far away and managing different devices quickly.
Robotics
If asked for a perfect AI-focused IoT solution for the manufacturing sector, robotics is the companies' future. It is easy for robots to learn new environments and processes based on IoT technology and artificial intelligence processing. The manufacturing industry is also leveraging the benefits of artificial intelligence and IoT with big data analytics, deep learning, and facial recognition.
Wearables
IoT ecosystem includes incredible wearables like GPS trackers, smartwatches, fitness trackers, remote monitoring systems, etc. These include specific sensors gathering real-time information and come with quick-to-use IoT applications. The data thus generated is sent to artificial intelligence to improve the decision-making capabilities of the machines.
Retail Analytics
If asked for the retail sector to increase its sales and marketing figures, investing in retail analytics is a dream come true. While it can't get over how IOT works, these analytics track customer movements and predict their behaviors. That helps businesses improve customer satisfaction to significant levels.
Owebest Technologies Optimize AI and IoT for Your Business
After learning the hulk capabilities of artificial intelligence and IoT, are you convinced to bring this combination to your business process? So, how will you initiate intelligent decision-making and data exchange?
With a bit of scope for hiring an in-house team of IoT and AI professionals for small and medium enterprises, going for an IOT Development Services company seems a potential solution. Out of all the possible solutions available in the market, Owebest Technologies is the preferred choice of different businesses due to the following:
Experienced AI and IoT consultants
Owebest Technologies has a dedicated team of AI and IoT professionals with years of expertise in this domain. Hence, these professionals deliver exexceptional, customized results for all development challenges.
Flexible engagement models
The Owebest team can engage in your IT project based on your needs. No need to worry about the different engagement models as the company offers to hire remote developers and enterprise solutions for multiple technologies.
Highest quality
A rigorous approach towards quality management is the key to a successful clientele list of Owebest Technologies. The evaluation and testing by the Owebest professionals eliminate every possible quality assurance issue in your AI and IoT projects.
Timely project delivery
Last but not least is the strict adherence to the guidelines that make Owebest Technologies a client-friendly IT outsourcing company.
Concluding Thoughts
With artificial intelligence in the IoT market set to grow at a CAGR of 27.3% by the year 2027, there can be no better time to leverage these technologies. The powerful AI and IoT merger is earning on its data exchange and intelligent decision-making capabilities. The different advantages of this combination make it a technology to look for.
So, no second thought in implementing this combination in your business when you have an intelligent IT solutions company- Owebest Technologies. It is a global CMMI Level 3 company offering optimized solutions for AI in IoT and other trending technologies. It is easy to get in touch or request a quote from the Owebest Technologies team right now!