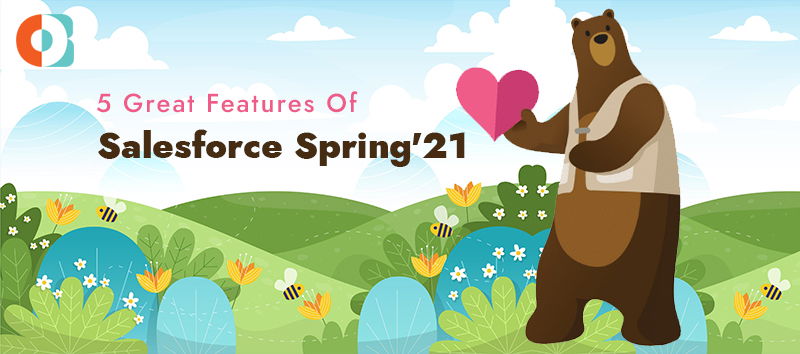 The 5 Great Features Of Salesforce Spring'21 Release That You Cannot Miss
Salesforce continues to make strides in its product development. Salesforce can make continuous improvements to its platform without burdening customers with extensive, complicated upgrades, which is a significant benefit of cloud computing. The platform upgrades itself behind the scenes, resulting in improved performance and functionality for you. Salesforce Ideas also allows users to submit feedback and their ideas online. It creates a unified community that will enable others to vote for and comment on other ideas developed and released in the future. If you are wondering about the cost of how to be successful with Salesforce's latest release, then it majorly depends on your requirements. Salesforce is proud of its ability to make improvements regularly throughout the year. If you are excited to know everything about Salesforce's latest release, then keep writing the article to know it all.
Here we have listed some of the latest release features in Salesforce.
1. Enhancement In The Backend
Lightning Flow has been renamed "Salesforce Flow," indicating that it can now handle most Trigger use cases and even moderate UI capabilities that require User interaction. You can now set time-based actions, get multi-column support for screen elements, and access Prior Values in Record-Triggered Flows, among other things. Secondly, SOQL (Salesforce Object Query Language) has been enhanced. Previously, retrieving fields with SOQL required specifying all of the field names. The new FIELDS function allows you to select all fields without having to know their names. This new feature eliminates the need for extensive research and typing, simplifies query statements, and makes exploring the shape of your objects much more accessible. It provides a similar construct present in all other standard SQL implementations and is extremely useful when debugging in a hurry. Also, as double dashes (--) are not supported in XML files with comments, the BEM notation with double dashes (--) in Lightning Design System will be replaced by the single underscore notation (_) as of Summer 2021.
Quintessential Guide To Hiring Remote Developers In The Challenging Time Of Covid-19
2. Advancements In Security
You can keep track of how people use your website. Login metrics are now available in the Lightning Usage App to help you keep track of users who are (or aren't) using multi-factor authentication (MFA). You can see if they're using SSO (password-free), 2-factor, or any other MFA from the dashboard. Because user login security is such an essential part of safeguarding your sensitive data, the metrics and insights provided in this update are beneficial. It will aid in the tracking of MFA adoption and the identification of potential vulnerabilities. Also, can use data Mask to obfuscate sandbox data automatically. In your production org, Data Mask is a managed package that you install and configure. In any of your sandboxes, the platform-native technology obfuscates sensitive data. Depending on the sensitivity of the data, you can set different levels of masking. Data Mask works in three ways behind the scenes: (1) Anonymization: Make the data unreadable by scrambling it. For example, "Bill" becomes "987jlkafj"; (2) Pseudonymization: Change a field's value to something readable. (3) Deletion: Convert a field into an empty data value; for example, "Bill" becomes "Jim"; and "Bill," for example, becomes "null." One of the most common ways to protect PI and PII data is to use Data obfuscation. The improved Data Mask allows you to "hide" your sandbox data in less time, fine-tune your masking, and choose which data to mask (such as only newly added data).
8 Ways In Which A Multi-Cloud Strategy Can Ace Your Business Game
3. Performance Analyzer For Your Lightening Page
You can track the performance of your lightning page in real-time with Lightning Page Performance Analysis. It provides information about the page load time, including both the actual and predicted times. This feature allows you to track the time it takes for a page to load on both desktop and mobile devices. It also breaks down performance into different components, making it easier to see additional performance gains. If you think what the latest salesforce release will help you is, then this is the one.
4. Upgradation In The Process
The Manual Sharing button has been reintroduced. The Manual Sharing button was previously only accessible by switching to Classic mode, but it has now been added to Lightning. Without having to leave Lightning and create complex sharing rules, a record owner can now share a record with a specific user or group of users. This feature was created in response to a request on IdeaExchange. Manual sharing is beneficial, especially in large organizations that must lock down their security for regulatory reasons. Since its release, people have been perplexed by Lightning's lack of functionality. Lightning is catching up to Classic in terms of functionality and feature set. Additionally, accounts and campaigns can be linked. You can now add account records as members of a campaign, even though it's still in beta. This feature also includes analysis insights, such as campaigns linked to any of the account's contacts, campaigns with the account as a campaign record, accounts that are campaign members, and more. If you're using account-based marketing, this feature is critical. It enables B2B marketers and sales reps to add a new level of detail to their outreach and tracking.
The Most Efficient Way to Choose a Cloud Service Provider is Here!
5. Positive Development In Remote Working Operations
"Salesforce Anywhere" includes Quip. Quip and all of its features have been officially absorbed by Salesforce Anywhere. Salesforce Anywhere, which has recently been expanded, allows users to collaborate on documents and engage in live chat within their Salesforce org using data that is directly integrated. Consider Salesforce Anywhere (formerly Quip) to be the Google Docs for Salesforce users. It allows teams to collaborate in real-time online, with the added benefit of being able to pull data directly from Salesforce. Furthermore, Salesforce Meetings improves virtual cloud meetings. Salesforce Meetings is a video meeting management platform that helps salespeople engage with customers and prospects more effectively. Salesforce Meetings integrates with your video conferencing system, such as Zoom, to provide an interface that allows reps to pull data from Salesforce and present it on the call—using Salesforce, view meeting attendees and customer history. Any potential risks, such as an open service case or a decision-maker who is unable to attend, are highlighted by Einstein Insights. The presentation and the sales rep's video are displayed side by side on a branded video overlay for attendees. To access data and talking points, reps don't have to switch between interfaces. Einstein sends reps automated next steps. They can set Salesforce records to receive automatic updates, making follow-up conversations and actions easier. Without as much technical difficulty, reps can lead to better sales calls. They won't have to juggle screens or search for information, resulting in a more polished presentation; they'll also have better follow-up tools, resulting in more closed deals.
In the end
Aside from the features listed above, a few existing features will be phased out in 2021 with the Salesforce Spring '21 release. To avoid any business disruptions, users will need to review their current settings and migrate to new features. From improvement in remote working to enhancement in security, the recent release of salesforce Spring'21 is genuinely worth the wait. This article answered your questions about the latest salesforce release. There's a lot to look forward to in the Salesforce Spring '21 release. So it's time to take advantage of Salesforce to enhance your business. OweBest Technologies helps you suggest the best as per your business requirement. Contact our team or visit our website for more information. We help you expand your business believing we grow when our people grow.