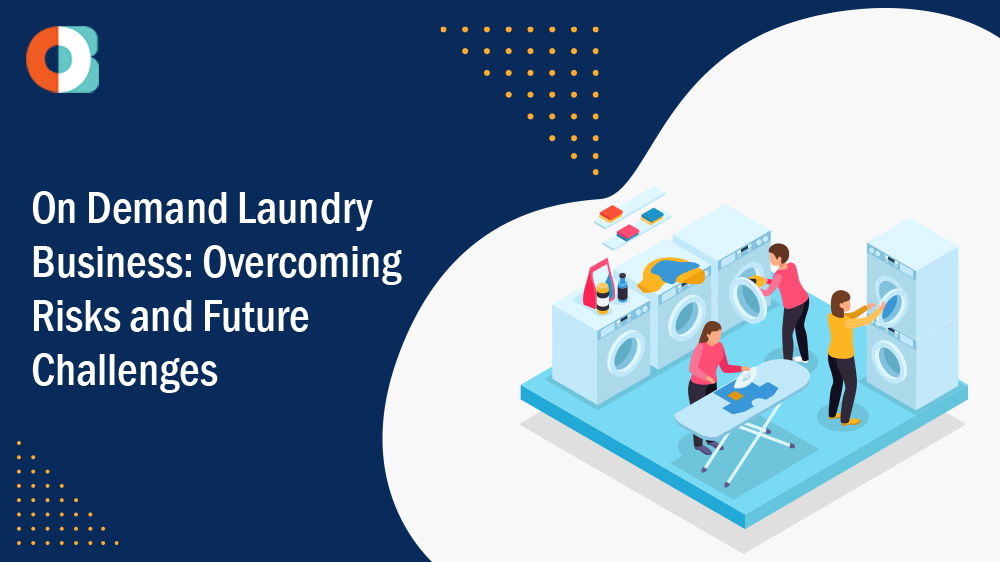 On Demand Laundry Business: Overcoming Risks and Future Challenges
Laundry is one of the most time-consuming and strenuous household chores. But nobody can deny its importance for living a hygienic and healthy life. As per Chron.com, U.S. consumers wash more than 660 million loads every week. Washing, drying, and ironing are all arduous jobs which also require a person to spend on good detergent, washing machine, and maid along with the electricity bills. This is where the on demand laundry app comes to our rescue.
The fast-paced living and hectic lifestyle of working individuals are making on demand laundry apps very popular among urban households. An on demand laundry app is an online platform for professional laundry businesses where clients can place an order online to get their laundry done. The dirty laundry is either picked from the client's doorstep or the client drops it off at the company laundry shop. The laundry is returned after the wash to the client at their home.
The ease of access offered by these apps is making more and more professional launderettes shift to online business. There is a lot of latent potential in this sector. This is the reason why the sector is attracting many angel and institutional investors.
If you own a laundry business, this article will help you understand how you can take your business online. Read how digitalization is addressing core issues in the laundry business and what risks and challenges an entrepreneur needs to tackle for launching a successful laundry service app.
Future of Online Laundry Service
Reports suggest that the revenue generated in the laundry care sector for the year 2023 is estimated at US$15.35bn. The market is expected to grow annually by 2.73% (CAGR 2023-2026). The on demand laundry service app is helping customers find a convenient solution for laundry-related issues. Out of many benefits, some of the advantages that customers enjoy using online laundry services are listed below.
Online laundry apps are flexible. A customer can place an order at any point in time. The load gets picked up and dropped at the doorstep as per the client's availability.
It offers a professional cleaning service which protects expensive garments from any damage.
It is time-saving as customers can place an order on their mobile without being bothered about getting tough stains removed from their attire after hours of hard work.
Professional launderettes have a huge opportunity in the B2B market. Businesses such as hotels, Airbnb, restaurants, medical facilities, gyms and sports clubs need laundry services to get a constant supply of clean clothes.
Risks & Challenges in Traditional Laundry Business
1. Operational risk
In the laundry business, the operation unit remains overburdened due to the two-way logistics. The pickup and delivery of laundry initially may cost huge and cut into margins. Similarly, customers may have a different time preference for laundry delivery. Added to this, the clogged traffic routes of cities lead to unnecessary wastage of time and fuel. This adversely affects the profitability of the business.
2. Quality control
In the laundry business, the risk of losing a customer is very high. Each time laundry is delivered there is a need to maintain the exact or better quality than the last delivery. People have an emotional attachment to their garments and any mishap can cost businesses a huge repayment bill. Further, negative opinions of customers can seriously hamper the brand value. The traditional laundry service faces the crisis of maintaining the quality with each delivery every time.
3. Time management
A major amount of downtime can seriously hamper a laundry business. Most of the time laundry services deal with businesses that work on a very tight schedule. They need clean linen within a certain period and delay in this process cannot be acceptable. This is the reason that laundry services need to build processes that are efficient and less time-consuming.
4. Huge competition and trust of customers
The clients have been using local laundries for ages. In every locality, there are laundry services that cater to the needs of customers. Customers, on the other hand, are also reluctant to search for new options as they already trust an existing service provider. To make a separate space in this hugely competitive market, a new entity needs to offer a service that is both better and more convenient.
Technical solutions for addressing these challenges
The On Demand Home Services Apps market has grown at high speed in the past few years, on an upward trajectory.
1. Automation of processes
Technology can assist businesses to automate laundry operations and reduce the chances of human error. Automation of activities such as order placement, payment, collection, and delivery can drastically reduce the chances of misplacing orders. In the long run, it increases the productivity of the business.
2. Integration of resource allocation system and GPS for time management
Online laundry apps today are allowing laundry businesses to schedule delivery times better. The resource allocation system can assign the pickup jobs to those delivery agents closest to the client's location, thereby optimizing time management. Through GPS integration, better routes with less traffic congestion can be used by delivery agents to reduce fuel consumption.
3. Monitoring system
All orders can be tracked by the client as well as by the laundry manager using a real-time monitoring system throughout an order's life cycle. Similarly, input and suggestions from the client can help the company customize the service as per the client's preferences.
4. Customer review and feedback mechanism
This mechanism can help a business build better processes through insight into customer queries, complaints, and suggestions. Customer testimonials and reviews are great tools for attracting new clients. A dynamic customer service mechanism is important to win in a competitive market and retain loyal clients.
Benefit of On Demand Laundry App Development for Businesses
Looking at the growing demand for laundry services, many businesses are building mobile applications that can offer the technical support mentioned above. Laundry service apps are convenient to use and help businesses scale up faster. Here, we have mentioned a few benefits of developing a laundry service app for businesses:
1. Larger reach
A mobile application opens the door to expansion for the business, as now your service can reach clients beyond your geographical boundaries. If you want to tap clients beyond your locality, a mobile app is a great solution for you.
2. Hike in revenue
Technology can reduce the amount of paperwork and the manpower requirements to do that paperwork. Similarly, it is a great way of advertising your brand among customers. Cutting costs on added human resources and advertisement can greatly enhance your revenue.
3. Customer engagement
A mobile platform allows your client to quickly get in touch with you, place an order, make payment, and rate the service. This is how you get the right insight into customer issues and what they truly want.
4. Efficient management
A mobile app allows you to automate repetitive processes such as client information, address details, and much more. The owner of the app can monitor each activity of the job, starting from getting customer orders, picking up laundry, delivery, and payment. Online platforms assist in dealing with each request effectively.
5. Brand Awareness
In the growing competition, it is important that you make yourself visible to the customers. Once they search for laundry services, they can check your services, read the reviews, and finally choose you. Mobile applications can help you professionally build your brand. The convenience and engagement that a mobile app offers can change the customer's opinion towards your brand.
Features of On Demand Laundry Service App
If you are interested in on demand laundry app development, you must also understand the key feature that needs to be incorporated into the app. Below, we have listed some of the important features:
1. Separate user panels
The app comes with three separate user panels. One is for the management, the second is for the employees, and the third is for the customers. The management panel can be called the admin panel, from which all tasks, new orders, and order lifecycles can be monitored. Tasks can also be assigned through this panel.
2. Dashboard
All processes are monitored with the help of a dashboard. It can be seen as a central panel that offers admin access and visibility to all the departments. A well-designed dashboard aids in providing an intelligent overview of the platform.
3. Client panel
The client panel is the module or section where the client profile is saved. It can be accessed by a client through an easy login access page. Here, a client can check their profile, order detail page with the delivery status, payment page, and review or feedback page.
4. Employee panel
This panel can show the employee their assigned job and feedback from clients. This panel can also be used by employees to register their feedback and comments on the job.
5. Order status
This feature is important for the admin as well as the client. This section gives detail on all activities undertaken with the status. The manager can monitor the activities of each department through this feature while the client gets a real-time update on the order starting from the time agent picks up the laundry to the time it is delivered.
6. Location detail and agent tracking
This feature is very useful when assigning a pickup job to the agent and checking where the agent is located. This can reduce travel time and enhance efficiency in the delivery process. Through the agent tracking system, the customers also receive reliable and timely delivery of their laundry.
7. Payment Management
The app can be integrated with various payment gateways for easy access and past transactions by customers. It is advisable that an app support more than two or three payment modes and offer cash on delivery.
8. Push notification and chat
Chat functionality allows the employees to quickly chat with customers to understand their requirements. Push notifications can be used to update the customers with laundry status, agent details, and recent offers.
9. Feedback section
Client feedback is important to understand whether clients liked the service or thought it needed improvement. This section is important for offering quality service in a highly demanding sector such as the laundry business.
10. Data security
As these apps need to store data that is confidential in nature, such as credit card details, contact details of a customer, and their addresses, the app must incorporate high-security features such as validation and OTP verification for all logins. Email notification of app login is another feature that can keep information secure.
Incorporating the above-mentioned features will allow any business to have an efficient and growth-oriented app that is stable and secure. For more custom mobile app development services related information, you can get in touch with our team. We have an expert team of professionals who have years of experience building mobile apps for all business requirements.